Calculate your water footprint
Read Hetch Hetchy Valley
.
After reading Hetch Hetchy Valley, take the onine quiz.
Study Qiestions
1. What is the Merced Yosemite?
2. What is the Tuolumne Yosemite?
3. What is the elevation of the Tuolumne Valley? Hetch Hetchy Valley? Skyline College?
4. Describe Wapama Falls, Yosemite Falls, and Rancheria Creek.
5. What did Muir think of the proposed 175-foot lake?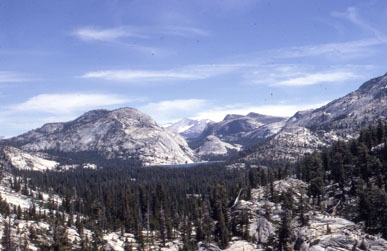 Tenaya Lake, Yosemite.